Interview with Dirk Erchinger
Drummer / Composer / Educator
---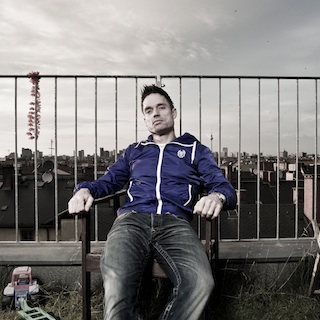 WaveMachine Labs: How did you get into drumming and music growing up?
Dirk Erchinger: I started playing music in my father's church in Hannover, Germany. The Scorpions were in that church too, and their former bassist Francis Buchholz was working in there! I started playing the flute, but that was way too boring so I had to play the drums! I started producing music with my first succesful Band 'Jazzkantine' in the mid-90s. I would produce a lot of demos & layouts on my Atari.
WML: Got to love the Atari! How has software and technology affected your setup now as compared to in the past?
DE: In the '90s we would use Ataris and digital 8-track machines. We also used Roland Samplers. It was a room full of gear! All that stuff fits into my Macbook now! [laughs] Now I can work on the plane or at the beach - That´s great!
WML: Do you get your influences for your style and sound of your music from the church music?
DE: A lot of my influences come from my childhood such as Jimi Hendrix & The Band of Gypsys, The Beatles, AC/DC, Stevie Wonder, and Michael Jackson. Other Influences are German bands, like Kraftwerk and Nina Hagen. And of course I get influenced by listening to a lot of modern music. I like: Daft Punk, Sven Väth, Deadmouse, Timberland, etc. I just steal from everyone and mix it into my own German/Americanized sound. [laughs]
WML: With your extensive use of technology, do you prefer to mix inside the box?
DE: I mix almost everything inside the box. I have an outboard EQ that I hardly ever use. I´m pre-mixing a lot of stuff on trains or planes, and I finish it in my studio. That´s just the way I do it and I like it that way.
WML: You've got a few drum kit setups. How do you use Drumagog on your kits?
DE: I always open Drumagog on my second snare mic and my toms to try different sounds if I need them. Sometimes I copy files and double them for a fatter sound, or I replace them totally. There is no recording where I don´t use it.
WML: You're always involved with a wide range of projects. What do you have going on now?
DE: I will start working on my new album for Universal Production Music soon. It will be a drum album with a lot of guests and influences from all over the world. We are planning to have music and musicians from North and South America, Europe, Asia, Australia and Africa. Furthermore, I am playing drums and producing tracks for the Pop-Virus Library in Munich. And I am working 'incognito' on a techno/dance project that has just been released in Europe and has already hit a few dance charts, but I can't tell you the name because then it would not be 'incognito' anymore. [laughs] Count Basic will record an instrumental album in the spring. Besides that, I am always busy with our online service www.drumsbyrequest.com, which I run together with my Partner Thorsten Prenzler. But I guess my biggest project will be my our next child, which will be born in October.

WML: Congratulations, and good luck with the baby! That also sounds like a huge amount of guests on your upcoming drum album. How did you become involved with some of the artists you do session and recording work with?
DE: Most of the work I've done in the past came through recommendations or through contacts of my former bands. For example, I was the drummer for Jazzkantine from 1994-2010. The manager from Count Basic liked the records and asked me if I wanted to join the band in '95. Count Basic were friends with Kruder and Dorfmeister in Vienna. That is how we got to record some tracks with them. This is how it works. A lot of the session work I do today is through our online service www.drumsbyrequest.com. Producers and musicians from all genres book me to play drums on their recordings. That way I have played drums on heavy metal online games, punk rock songs, R&B music, movie scores and even famous German 'Schlager'- music. [laughs]
WML: Tell us about how you got involved in your drum school that you founded.
DE: It was always my dream to open my own drum-institute. But in the past i was just touring too much. Since I have 2 kids (& the third is coming soon:) I´ve cut down the touring to a minimum. So i finally had the time to open Drumtrainer Berlin. I am very proud to have a great staff of great drummers from all over the world. We focus on our 12 month professional training, where we try to give to young drummers the full package they need to make it in todays music-business. We have students from all over the place: Germany, Austria, Switzerland, Venezuela, Brasil, Chile, Russia.. To be honest: I think it´s a unique & fine school;-)
WML: Any new software that you're really into right now or future products you'd like to see?
DE: Right now I am more than happy with what I got, but I keep my eyes open. I think instrument companies like my drum company, Yamaha, should work hand in hand with guys like you to make electronic drums work even more smoothly with programs like Drumagog.
---
Check out more from Dirk here: