Interview with Matty Amendola
Session Drummer, Producer, 825 Records
---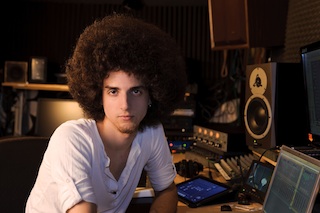 WaveMachine Labs: How did you get started playing and producing music?
Matty Amendola: I started playing drums in a high chair. My dad was a drummer so it was always around me. He encouraged me to pick up other instruments so I started playing guitar, bass, and singing when I was around 12. After learning how to play everything it was hard for me not to take charge. It was in my nature to share all of my ideas with band members and collaborators and being behind a drum kit wasn't enough. That's when I started producing. I found my niche because I produce mainly singer/songwriters and solo artists and besides working with them on their songs, arrangements, and overall sound, I can also be their entire band on the recordings.
WML: Being the son of Modern Drummer Associate Editor and Mantus member, Billy Amendola, that must have played a large roll in your introduction to music and drums, right?
MA: Some people forget my dad is a musician first. I grew up in the studio hanging around sessions with him, going to shows and hanging out backstage and stuff like that so I was definitely doomed (Laughs). I knew I was going to be a musician. After he got the job at Modern Drummer, it definitely gave me a closer look at the business side of the 'drumming industry' but it's probably more of a curse than a blessing. I'm not into the politics and I'm more of a fan of 'music magazines' than magazines dedicated to one instrument.
WML: As a younger producer, have you always used new technology for recording? Or do you ever trend towards older, more analogue gear?
MA: Oh boy... Wanna see my credit card bills? (Laughs) I'm constantly buying new gear. As a young producer I basically learned how to record and mix in the box, but I'm a huge fan of the warm analogue sound and feel. I'm an even bigger fan of the blend between analog and digital. I like things to sound raw, as if you're in the same room as the player, but I also like that digital polish. My current setup is Logic Pro 9, M-Audio Profire 2626 interface, Universal Audio 4-710d, and a shit load of plugins. The UA4-710d is a great piece of gear because I feel like it was made specifically for me. It has blend knobs for every channel so I can literally mix how much transistor and tube I want. I'm a big mic fan as well. I think Earthworks makes some of the best mics in the world, and I use their SR40's for overheads and acoustic guitar. I also love the Telefunken AK-47 which is my primary vocal mic. Obviously I have a lot more gear in my studio, but these are the ones that get me through the day.
WML: That's some incredible gear. Where does Drumagog fit in to your studio work?
MA: I use Drumagog on every single drum track. I'm not so much into 'drum replacing', but I think drum 'reinforcing' is a necessity for records nowadays. For my own drum sound I always reinforce my kick and snare using Drumagog and blend in the Drumagog sample about 40-60% depending on the track. For other genres like metal & hip hop I usually use 90-100% Drumagog blend. I'm a big fan of lo-fi sounding live drums, and that goes hand and hand with hip hop. I make my own loops on my live kit and go crazy like a mad scientist in Drumagog to get some really unique shit. It may be one of my trademarks as a mixer.
Another thing I need to point out is how I approach the instruments I use and endorse. I'm a very versatile player, and I like my instruments to be the same. I have my beautiful Pearl Kit with mics setup in my studio at all times. What if someone comes in and they want an old Beatles sounding drum track? Simple. I'll swap my snare out and throw an old 70's Ludwig in there, setup some old cymbals, go into Drumagog and replace the kick and toms to match. I grew up in this age of technology but the simplicity and quality Drumagog offers still amazes me...
WML: Do you do any mixing? If so, do you prefer inside the box or outside the box?
MA: I don't consider myself a mixer even though I tend to mix most of the projects I produce. I mix all inside the box but my good friend and colleague engineer Butch Jones (Madonna, Rolling Stones) has always stressed how important mic placement is and how to get things sounding the way you want it as they're being recorded. It makes the mix process easier.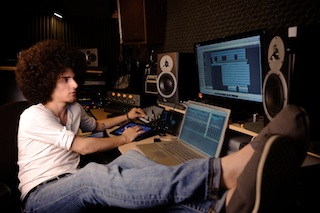 WML: As a drummer, what turned you on to recording and also developing talent through your 825 records?
MA: I've always loved playing live and touring. I know I have a great look and I'm really comfortable on stage, but being in the studio feels like home to me. When I started the indie label 825 Records I had just come off the road after being on tour for over 3 years straight for multiple projects. I was pretty sick of it. I started producing so many artists and because of my workflow, I was developing them as artists without even trying. I was helping them with the songs, arrangements, overall sound, I was playing 99% of the instrumentation, and I was also mixing everything. There was a point where I wanted everyone I was working with on one roster and thats how the label began.
WML: What projects are you currently working on?
MA: I'm currently developing 3 artists for my label, I do FTP tracks daily for clients around the world, I'm slowly working on my 3rd solo album, I'm producing and playing on 2 more albums for other independent labels, and I recently played drums on a 50+ song soundtrack for a new musical with some big names (Leslie West, Hugh McCracken, George Small, Will Lee, Elaine Caswell, Bette Sussman, Dave Biglin, among many others).
I'm super excited about my labels upcoming release by an artist named Fleet Walker. His debut album 'Morning Void' is coming out in September and it's one of my favorite records I've ever been apart of. I produced, played a lot of the instrumentation, and sang background on the whole album. Check out a song called 'In a Dungeon at the Bottom Of the Sea.' I basically constructed the whole arrangement after combining 3 full drum tracks all using Drumagog. (www.fleetwalkermusic.com)
WML: How did you become involved with some of the artists you do session and recording work with?
MA: I've kept good relationships with a lot of other producers and musicians that I worked with when I was younger, and they always seem to call me when they have work. For other youngsters out there trying to get gigs, get out there and make a presence. Meet people, play with people, and be courteous and professional.
---
Check out more from Matty here:
*Photographs courtesy of Tim Shahady